Choose a Gallery:
Exhibit Home | The Secret War | A New Home | Religion & Traditional Ceremonies | Traditional Arts
"I will keep that tradition and I will continue to make a piece of Hmong." — Mai Xee Xiong, 2014
Traditional Arts
Traditional Clothing | khaub Ncaws Hmoob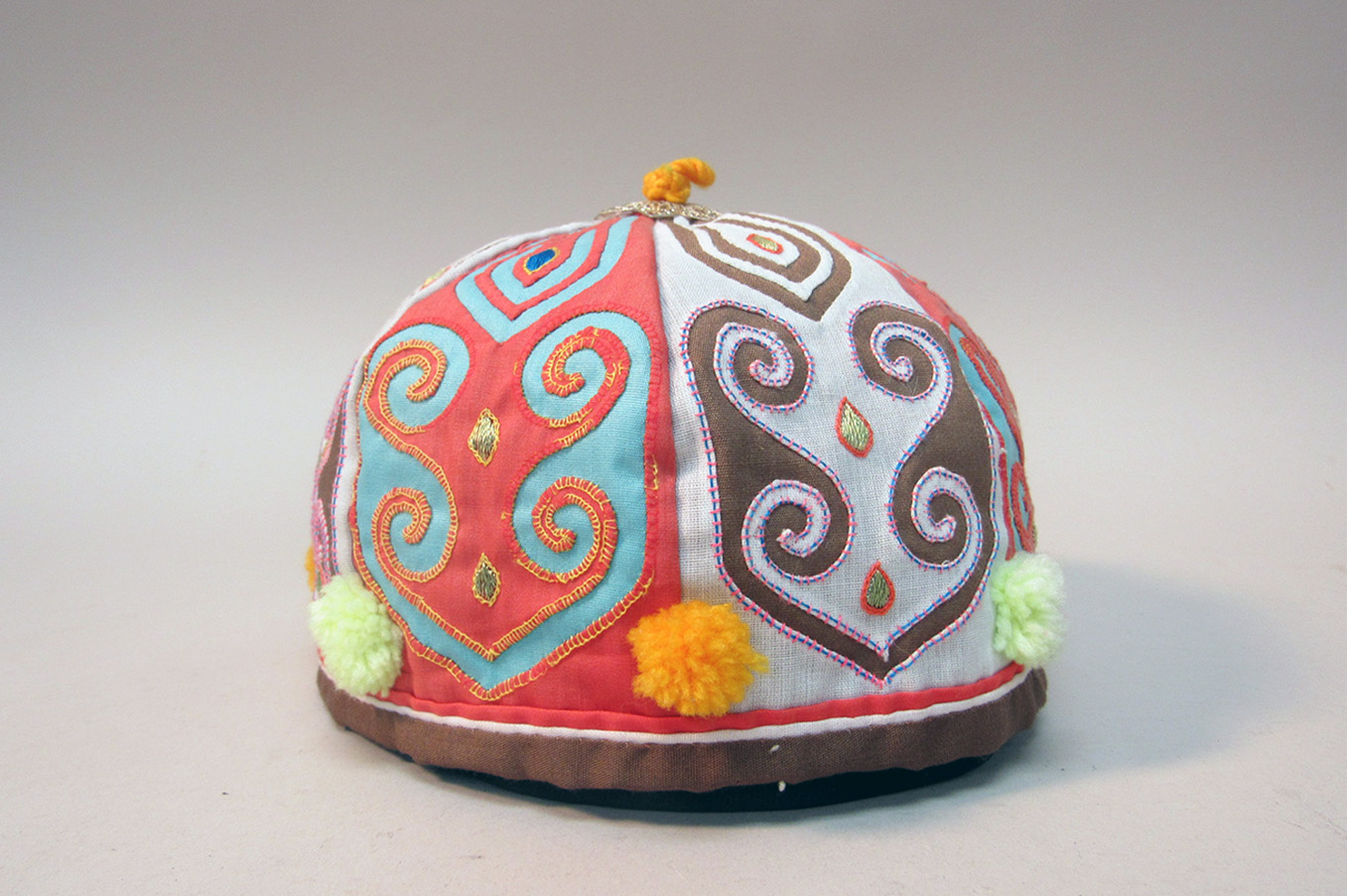 White Hmong men's reverse applique hat, 1980s.
A Piece of Hmong featuring Mai Xee Xiong, 2014. Learn more about textile artist Mai Xee Xiong's migration story and her process for creating a traditional Hmong New Years hat.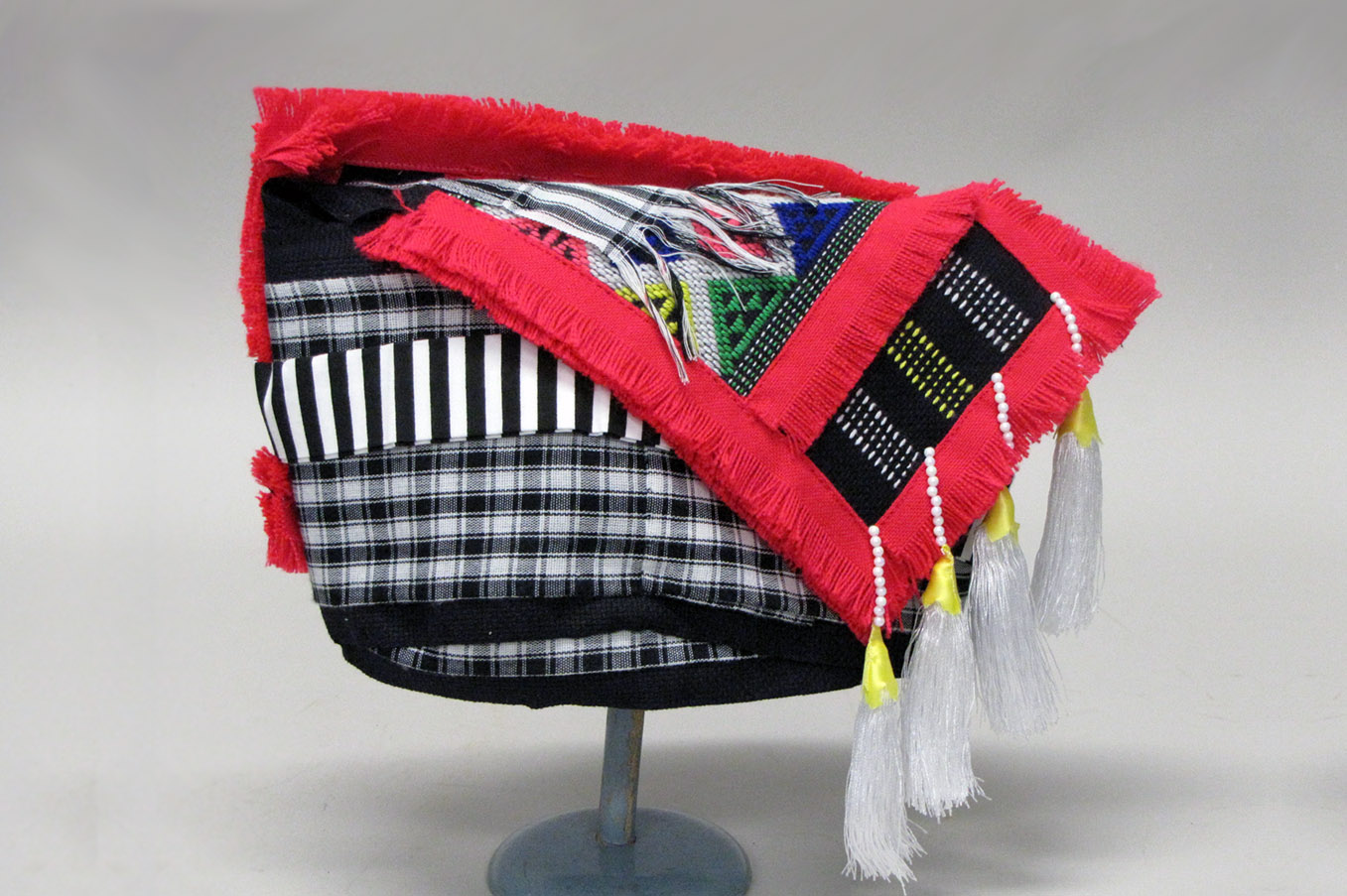 White Hmong women's hat made by Mai Xee Xiong, 2014. Xiong learned to sew these hats when she was just seven years old.
Throughout the year, Hmong women in Laos work on elaborately embroidered costumes for themselves and their families. At New Year they adorn elaborate clothing with heavy silver necklaces, an indication of a family's wealth. In Laos, clothing styles provided a visual indication of Hmong subgroups, White and Blue (also known as Green). Blue/Green Hmong women wore elaborately decorated skirts in contrast to the plain white pleated skirts of the White Hmong. Today, the New Year celebration is still an occasion to get dressed up, though the outfits might mix elements of Blue/Green and White Hmong along with details influenced by other Southeast Asian cultures.
Cov poj niam Hmoob nyob Nplog teb ces tsuas yog niaj hnub xaws ris xaws tsho (xaws zam) rau lawv thiab lawv tsev neeg thawm niaj thawm xyoo xwb. Thaum lub xyoo tshiab los yog noj peb caug mas lawv hnav zam dai npib dai hob thiab coj xauv nyiaj xauv ncais puv ntia tej caj dab qhia tau tias lawv yog ib tsev neeg muaj nyiaj muaj txiaj. Nyob Nplog teb mas cev zam koj hnav ntawv yeej qhia tau hais tias koj yog Hmoob dawb los Hmoob Ntsuab lawm. Cov poj niam Hmoob Ntsuab mas hnav daim tiab muaj paj ntaub txaij txaij hos cov poj niam Hmoob dawb mas hnav daim tiab dawb xwb tsis xaws dab tsi rau li. Niaj hnub nim no los kev noj peb caug yeej tseem yog lub sij hawm sawv daws hnav zam Hmoob thiab tab sis nim no lawv muaj ntau yam khaub ncaws Hmoob los mus sib txuam lawm.



"So back in Laos when I was a little girl, my mom always prepared a costume for us for the New Years…. Sometimes she would just ask the children to sleep and she would light a little lamp and then she was just sitting all night to sew the costumes to get ready for the New Year's in December…. Traditionally, everybody had to have a new costume during the New Year's to bring good luck to the new year." — Jennifer Vue, 2018
"When we come to the New Year, we wear what we are really proud of and we put so much work into it. Some moms spend a whole year working on it, that by the time the New Year comes around, it's really a proud moment for them." — PaSia Lor Moua, 2011
"Part of the role, women's role, is to be able to sew. So you would have to be able to do this kind of stuff, like make new outfits for the family, for the husband and the kids. [I made this men's jacket] when I didn't have children, so I had a lot of spare time." — Sia Yang, 2018
"I could only sew when I did not start working yet [in the U.S.]. After I started working, I only tried to do bits here and there when the kids are asleep, or when the kids are watching television, or when they are at school. I'm a very hard worker.… Because I was working, I didn't do much. I just did cross-stitching and cut Hmong clothes. I did not do storycloths anymore." — Mai Xee Xiong, 2014