DONATE TO THE CHIPPEWA VALLEY MUSEUM
People like you inspire curiosity about the Chippewa Valley!
In doing so you increase the collection, preservation and sharing of historical and cultural resources here in the Chippewa Valley.

Your dollars not only support preservation NOW, but also build a legacy of engaged citizens. You make a better future for our youth, our visitors and the Chippewa Valley community by caring for its past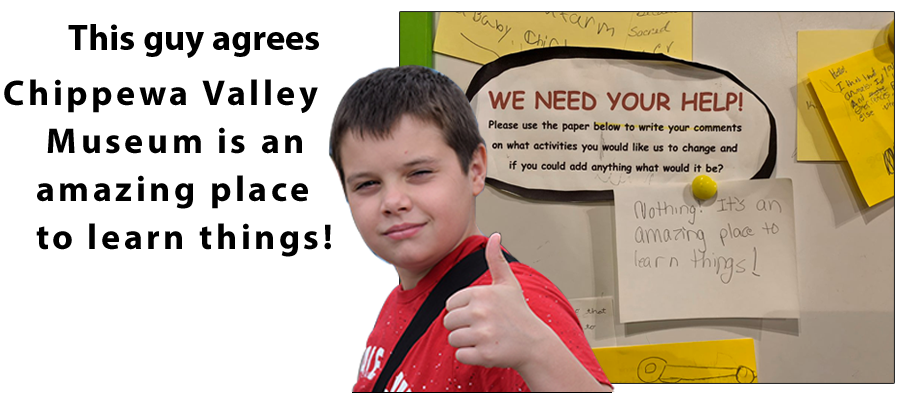 Thank you for your part in providing access to regional history and culture for all.

If you prefer to send a check, please send it to:

Chippewa Valley Museum
P.O. Box 1204
Eau Claire, WI 54702

If you prefer to donate by phone, please call: (715) 834-7871
Your donation supports:
Field Trips. Full cost for one guided tour: $150
Care and Storage of Photographs and Artifacts. Archival supplies for 100 photos: $125
Family Programs. Fourth of July Fun Fest entertainment: $500
Traveling Exhibits. Rent and shipping for one exhibit: $1,000
Use and Care of 1871 Historic Schlegelmilch House. Brick repair: $9,000
Cost of Operating Museum. Utilities for one year: $39,500
Access to Local History Research Materials: Priceless