Museum Happenings: Bike Tours, Music, Sidewalks, and Much More
Posted: May 20, 2022
MUSEUM HAPPENINGS
May 20, 2022
Spring field trip season is not just for elementary students. This week, two of Mr. Nerbovig's Regis High School math classes sat in Sunnyview's century-old one-room school house desks for their math lesson.Now that is a holistic education.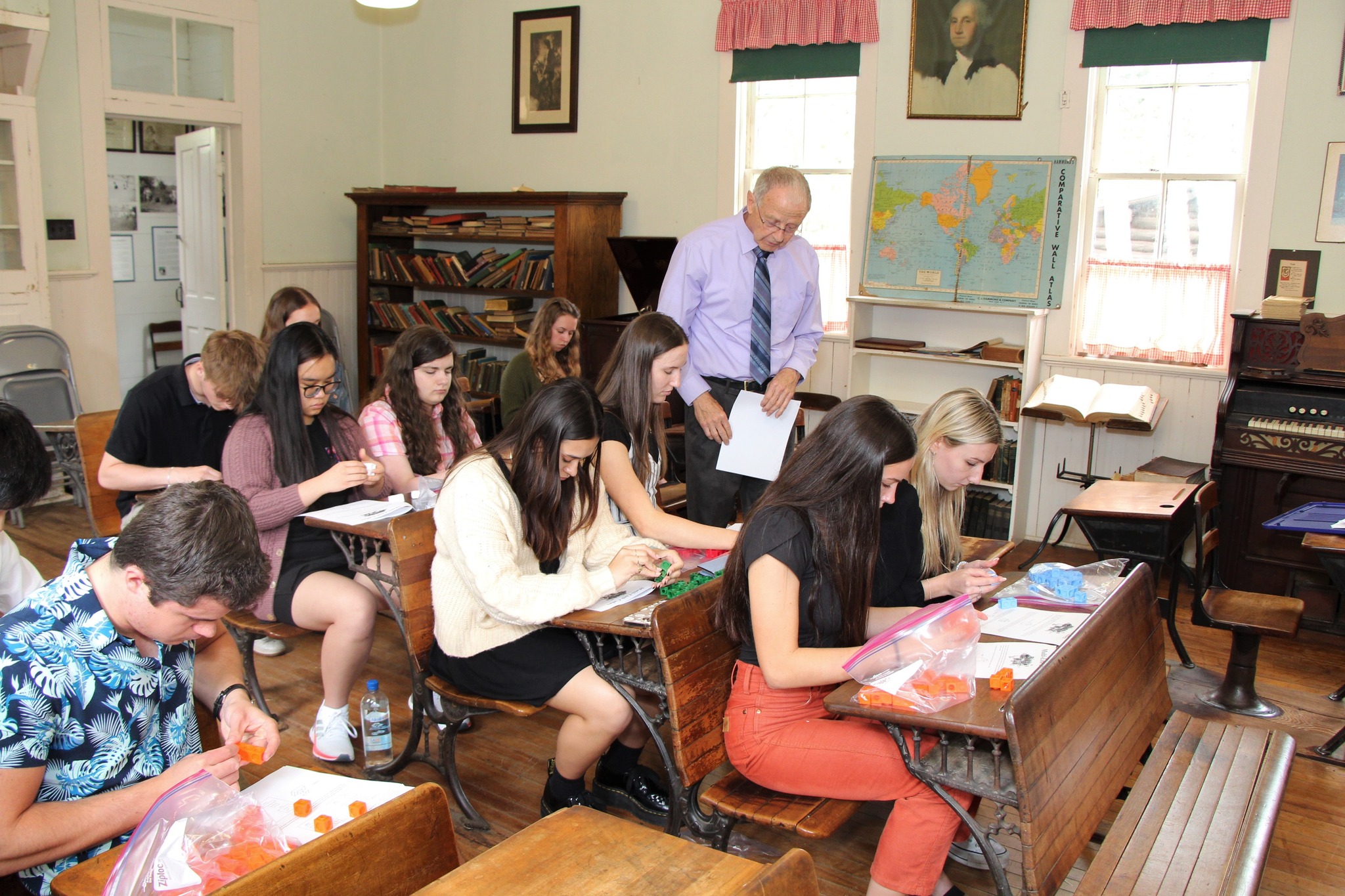 Courtesy Regis Catholic Schools
Service Clubs Make Awards to Object Theater
Cleghorn Lions Club and Kiwanis Club of Eau Claire give $3,000 each
The new Object Theater production got a boost in funding with awards from both the Cleghorn Lions Club and The Kiwanis Club of Eau Claire. Thank you!! The new show about the diversity of music traditions and experiences will open this summer. Below is a current look at construction of the new Object Theater layout. We will be sharing updates over the next few months.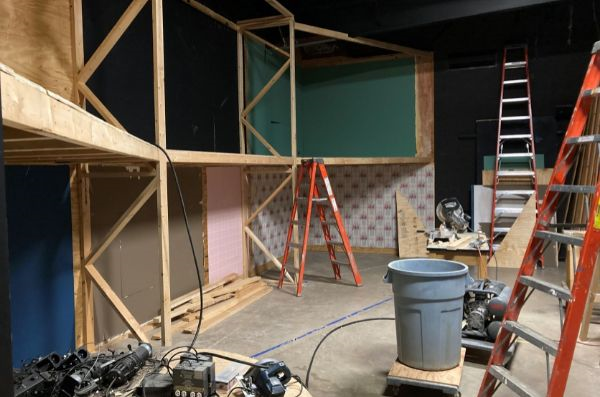 You Can Help!
The Object Theater show needs some specific items. Please contact Diana Peterson, 715-834-7871, if you have any of the objects below:
Baby's mobile to play above crib
Music posters
Black light posters
1950s family room chair
1950s vase or black panther pottery
Punk rock items
Small pup tent
Album covers for local bands
Musical instruments, especially ones that can be touched or played
Ribbon Cutting of Then and Now Exhibit
A grand time was had at this week's Ribbon Cutting for the new Then and Now: 150 years of Change exhibit. Thank you to the Eau Claire Area Chamber of Commerce Ambassadors and local government officials for supporting this exhibit.
Museum Hours
Tuesday: 5-8pm
Wednesday - Saturday: 12-5pm
Closed Memorial Day

Summer Hours Start May 31
Tuesday: 5-8 pm
Wednesday - Sunday 12-5 pm
Vintage Landmarks T-Shirt Offer
Limited offer -- only available through June 17
Special offer t-shirt... Order yours today! Local business Powertex Group has launched an online pop-up shop to benefit the Chippewa Valley Museum. The vintage t-shirt includes 13 local landmarks, some here, some gone, plus the Eau Claire 150th anniversary logo.


The pop-up shop runs through June 17th 2022. All proceeds from the store will go directly to the Chippewa Valley Museum to support preservation now and build a legacy of engaged citizens.
Chippewa Valley Museum Logo Apparel
Now Available through Huebsch Services
You can show your support for the Chippewa Valley Museum, and wear CVM clothing when you volunteer, with new logo wear from Huebsch Services. Select from 29 different items, including pullovers, tees, polos, and outdoor wear. If you'd like to be added to the list to purchase embroidered and screen printed items with the Chippewa Valley Museum Logo, please contact Rachel Meyer or (715 )834-7871 to be added to our site and receive ordering instructions.
Summer with the Chippewa Valley Museum
Carson Park Experience
Sunday, June 12, 12:00 - 5:00pm
The Chippewa Valley Railroad will kick-off this summer's Carson Park Experience with a grand opening of the newly restored Eau Claire Switch Tower. Tours of the Switch Tower will be led by members of the Chippewa Valley Railroad. Enjoy complimentary experiences throughout the park - Admission applies for Train rides and Museum Exhibits.

Schedule of Events:
11:30am - 2:30pm: Batter's Box EC foodtruck in the tennis courts parking lot
12:00 - 2:00pm: Music on Chippewa Valley Museum lawn - Student Harp Ensemble and Maple Ridge Band
2:05pm: Eau Claire Express baseball game
12:00 - 4:00pm: Beer Garden on Chippewa Valley Museum front lawn
12:00 - 5:00pm Grand opening of the Eau Claire Train Tower with Tours by Chippewa Valley Railroad

Parking available in stadium lot with in-park shuttle to all participating locations.

Additional Carson Park Experience dates: July 4, August 14
CVM's Summer 2022 Biking & Walking Tours Schedule. Contact Angela at 715-834-7871 or a.allred@cvmuseum.com with questions regarding registration for any of these tours. Cost for all tours except June 6 Bike Tour: $10/adults, $5/youth & students, free for members. Members will need to log-in at registration to receive member discount. No refunds will apply.
Monday June 6, Bike Tour: Finding Eau Claire Women, 6:00-7:30pm. Explore women's stories and history connected to various sites in Eau Claire. This bike tour is a part of Bike Week events. Free. Limit: 25. Register
Sunday July 10, Bike Tour: A Close-Up Look at Carson Park Landmarks, 10:30am-12pm. Take a ride around Carson Park with Carson Park historian Tim Hirsch and discover the incredible history surrounding our museum's grounds. Limit: 20. Register
Monday August 1, Bike Tour: Small Businesses of the Past, 6-7:30pm. Enjoy a guided ride around the city exploring businesses owned by minorities, women, and immigrants throughout Eau Claire's history. Limit: 25. Register
Thursday August 4 or 11, Walking Tour, 6-7:30pm. ALL NEW tour of Eau Claire's Forest Hill Cemetery led by retired UW-Eau Claire historian Robert Gough and UW-Eau Claire University Archivist Greg Kocken. Limit 20 per tour. Register for August 4 Register for August 11
Monday September 5, Biking Tour: Lost Jobs, Remembered Workers, 3-4:30pm. Discover the people and jobs that helped Eau Claire grow but have long been forgotten in this Labor Day tour. Limit: 25. Register.
Outdoor Music
June 12
Harp Music & Maple Ridge Band
June 26
Tomahawk Circle Drum Group
July 4
Sliced Bread Jug Band
July 10
Eggplant Heroes
July 24
Peter Phippen & Rahbi Crawford
August 14
Davey J and Friends
Schlegelmilch House Open Hours
June - Sept.
2nd Saturdays
10am - 12 pm
Visit downtown Eau Claire's oldest structure and learn about the three generations who lived there. $8/person; $2 youth/students, free for members.

Preregistration recommended.
Another school year is coming to a close. Enjoy the end-of-year activities, the graduation parties, and the people who make our lives better.

Peace,
Carrie Ronnander
Chippewa Valley Museum Director

PS - The exterior of the Chippewa Valley Museum has changed again. This time, it's new sidewalks. This project wasn't in our maintenance budget this year. However, a review of the sidewalks this spring made it apparent that something needed to be done. The asphalt walkways had deteriorated so significantly that they were unsafe. This was especially true for the walkway connecting the accessible parking with the front entrance.


The project included replacing a gravel walkway between the Sunnyview School House and the Wisconsin Logging Museum with a concrete sidewalk. This will make it much easier to move schoolchildren between sites on rainy (and even snowy) days and provide a more accessible path for all visitors.

P.P.S. The last of the weekly Cutover Conquest Series posts written by Archivist Jodi Kiffmeyer appeared this week, which you can read below. If you're interested in learning more about the topic, check out the book Farming the Cutover: A Social History of Northern Wisconsin by Robert Gough. This book served as a major source for this series.
Cousins playing on tire rim swing on a farm that had been woods only a few years earlier; from left to right: Robert Cooper, Inez Cooper, Irene Cooper, Herbert Cooper; 1938.

"What are we going to do with the cutover?" It's a question that echoes in Northern Wisconsin even today. For all the optimism about farming, by the late 1920s it was widely acknowledged that most of the land was marginal at best for that purpose.

Talk soon turned to reforestation and tourism. In 1933, two different proclamations by President Herbert Hoover created the Chequamegon and Nicolet National Forests, setting aside 1.5 million acres for preservation and recreation. And, of course, thousands of vacationers have visited resorts and cabins "up north" over the decades.

Despite the failure of so many cutover farms, those of us living in the Chippewa Valley remember the hard work of the thousands of farm families who gave it their best shot. What better way to memorialize them than the words of Ralph Owen, written in the mid-20th century.

"This great stretch of country that evolved from the cut-over lands, this inhospitable terrain, this mess from the early loggers' operations, now in its day of grace is a monument surely to the pioneers and settlers who broke the sod and cultivated the land; it is also a monument to those who made all this possible for these brave pioneers."
Follow the museum's Instagram and Facebook pages to discover more local history. New content is posted a few times every week.
Back to all news