Who Knows the Chippewa Valley Best?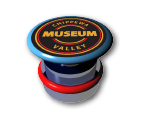 Join in the fun to see who knows the Chippewa Valley best, or get your name out by sponsoring this unique event. All proceeds go toward supporting the mission of the Chippewa Valley Museum.

August 22nd from 6pm - 9:00pm at Chippewa Valley Museum
The Chippewa Valley Museum invites those who think they know the Chippewa Valley to compete in its all new trivia night challenge. Held at the Chippewa Valley Museum, the event includes 5 themed rounds emceed by local author and UW-Eau Claire English professor, BJ Hollars. Compete for fun prizes and the honor of knowing the Chippewa Valley best. The event includes a pizza, complimentary ice cream cone from the museums 1950s ice cream parlor, and a cash bar.
---
Send a Team | $200 - Looking for a teambuilding exercise, or just want to do something fun? Send a team of eight to compete, and put your knowledge of the Chippewa Valley to the test.

Sign up as an Individual | $25 - If you have fewer than 8 in your group, no worries. Your and/or your group will be combined with others so that you have 8.

---
Thank you to our Sponsors
Round and Table Sponsors: CCFBank, Realityworks, Volume One

Round Sponsors: Cedar Corporation, Chestnut Consulting,

Table Sponsors: Ayres Associates, Peoples Bank Midwest
Pizza Sponsor - Toppers Pizza
Wine Sponsor: Infinity Beverages Winery and Distillery

Ice Cream Sponsor: Landmark Company
---
To register or ask questions, contact Carrie Ronnander at (715) 834-7871, or c.ronnander@cvmuseum.com